Most people probably wouldn't consider the end of July to be the start of Halloween season, but then again, most people don't celebrate horror and the macabre year-round. Wizard and I were so excited to go to Midsummer Scream again this year! I bought tickets way back on March 1st and was counting down the days ever since.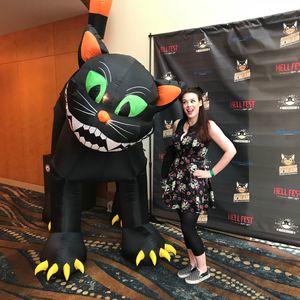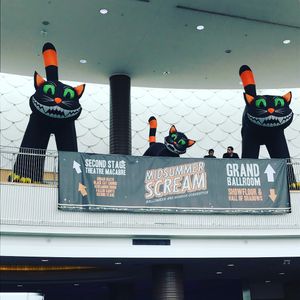 Now in its third year, Midsummer Scream seems to get bigger and better every year! We arrived around 2:00 pm on Saturday, so we missed the lines in the morning. Unfortunately, we also missed the 30th anniversary celebration of "Elvira: Mistress of the Dark." I'm kicking myself for that, but I woke up late. A ghoul's got to get her beauty sleep!
The hall looked incredible. We started on the dealer's floor and enjoyed the millions of ways you could spend all of your money. I decided to go around and see everything before I figured out what I was going to buy. That proved to be challenging, as the floor was absolutely jam-packed with merchandise and clothing that I wanted! We walked around and just tried to take it all in. We were also on the lookout for our friends, both from social media and real life. Happily, we ran into quite a few of them!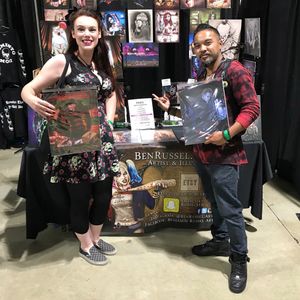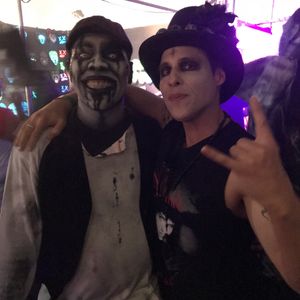 Incredible artist Ben Russel and my purchases!      Wizard and one of our favorite members of the Decayed Brigade
I was especially excited to meet Miranda from Spooky Little Halloween! She came all the way from Texas for the event. Regrettably, I was so excited to see her that I completely forgot to take a picture together! Ugh. She did a lovely Q&A with us last year which you can check out HERE. Her blog is a fabulous resource for everything Halloween-related! 
We went into the Hall of Shadows and experienced some of the haunts there. We loved the Trick 'r Treat fan tribute, presented by Murder House Productions. They did a great job of capturing the feel of the film, and little Sam was as ghoulishly adorable as ever. The maze was short, but completely worth the wait. 
Next we watched a show by the Decayed Brigade, which is one of the highlights of any horror convention for us. This slider team is incredible! Not only do they roam the isles of the convention scaring the crap out of everyone they can, they put on one of the most entertaining and exciting shows around. Basically, this team of male and female sliders slide around long distances on their knees while scaring everyone. They also jump over things- people, ramps, etc. The artistry of it is not just the physicality, but the performance. There's music, there's spooky lighting, and the costumes are actually terrifying the first time you see them. We definitely recommend that you check their show out if you ever have a chance! It's always exciting.
We also loved the Peepshow Menagerie show! This spooky burlesque show was fabulous and it made me want to run out and buy a set of tassels of my very own. The two performers were powerful and fearless. While part of the fun of burlesque is, of course, seeing a great rack (which I am always a huge fan of), the artistry and bravery involved in this type of performance always inspires me. The girls were incredible and we plan on going to see their full-length show.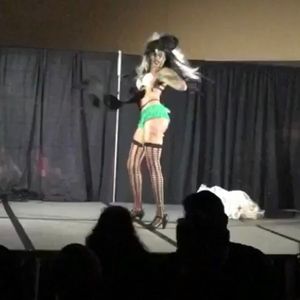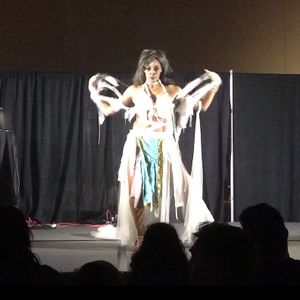 The gorgeous ghouls from Peepshow Menagerie
As for the performances and offerings in the rooms upstairs, we only had time to go to two events. The first one was delightfully bizarre and macabre. It was a condensed version of the production Zombie Joe's Underground Theatre Group puts on called Urban Death. We came upon this show accidentally and had no idea what to expect. To be perfectly honest, we were looking for the kitten rescue room when we saw a line of people heading into this show! We decided to jump in line and see what was going on, and I'm so glad that we did.
I'm not even completely sure how to put into words what we experienced. The show starts in complete darkness with a sense of impending doom. A few nervous giggles came from the crowd, but mostly it was silence and darkness. I closed my eyes and prepared myself for the experience. What I saw in the next 15 minutes was shocking, bizarre and beautiful. The vignettes that were performed by these fearless actors were unnerving, but some were tender and beautiful. They were slices of unedited humanity with a horror flair. As strange as it may sound, it almost felt like a religious experience seeing these bold actors expose themselves and provoke emotions the way that they did. This is another show that we will definitely be going to see soon. Please be advised that there is nudity and a lot of graphic themes involved with this show.
We went and experienced the Slashback Video art gallery/pop-up exhibit, which was presented by The Mystic Museum in Burbank and Ryan Turek of Shock Waves Podcast and Blumhouse Productions. It is a tribute the 80's horror and video stores, and this is the second time that we were lucky enough to experience it. The first time we saw it was at the Mystic Museum.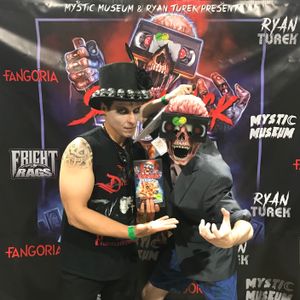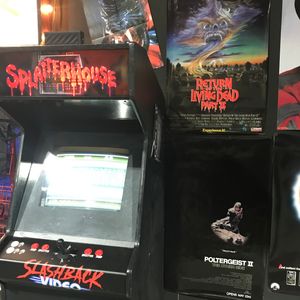 I managed to control my spending pretty well, which makes me sad. I wanted everything. I purchased an adorable "Lucipurr" mug from Blackcraft, a Nightmare on Elm Street and a Michael Myers print from artist Ben Russel, and a few stickers from The Horror Corner. Wizard bought a Lost Boys t-shirt from The Horror Corner, which he is absolutely obsessed with.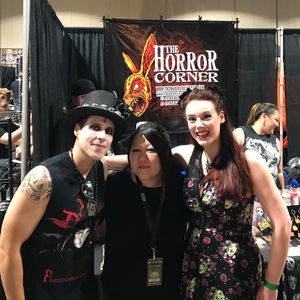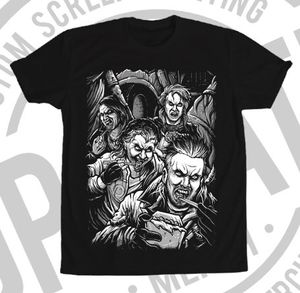 I was sad to see the event end for the year, but thankful that we got to experience it again. I have never found a community of people who are more enthusiastic about what we do, or more supportive of each other. I left Midsummer Scream proud of our horror community here is southern California and happy to be a small part of it. I know, what can I say? I'm just a sappy girl who loves everyone and wants to see demonic possession and extreme violence in my films.
Until next time, stay spooky...
Nancy